Careers Guidance
We are proud of the work we do to prepare our students for the next stage in life. Last year 88% of Year 13 went on to university and the remainder managed to secure competitive apprenticeship positions. If you have any questions or concerns regarding your next steps after high school, please contact Ms F. Barker (EPHS Careers Advisor).
ResourceComp@nion
Resource Companion Online provides a comprehensive up-to-date and accurate careers library. This free resource from Ealing Council supports students in making informed choices about their future career paths. Please use the link below to access.
Username: youthealing
Password: youthealing
(Within ResourceComp@nion use password EPHS2017 to access e-clips.)
Elthorne Park Careers Map
Careermap provides you with live opportunities for your dream career. Explore their Apprenticeship and Graduate vacancies to find the right one for you. If you are not sure what you want to do, have a look at Careermag for inspiration and explore the site to find out more about all sorts of jobs and careers of the future. Please use the link below to get started.
Careermap Elthorne Park Careers Map
LMI Career Cards Use the cards below to find out and compare average statistics on different careers.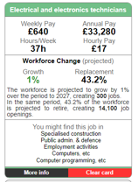 Useful Links
Our Careers Advisor
Ms F. Barker is our Careers Advisor here at EPHS. She has an abundance of knowledge, advice and connections to help guide you as your consider your options for the future.She is available for student appointments on Mondays and Thursdays. To request an appointment, please use the link below.