Careers Guidance
We are proud of the work we do to prepare our students for the next stage in life. Last year 88% of Year 13 went on to university and the remainder managed to secure competitive apprenticeship positions. If you have any questions or concerns regarding your next steps after high school, please contact Ms. Crix (EPHS Careers Advisor).
Latest Careers Guidance
KS3 - https://www.loom.com/share/56cb43597ca445d499d8d00e41a5b714
KS4 - https://www.loom.com/share/8ad10e84f255439c85790ce4ebacd7e6
KS5 - https://www.loom.com/share/70b0f37a3d4a4fd19c9e1c900e167ccd
Helpful links when thinking about your future career and pathway
ResourceComp@nion
Resource Companion Online provides a comprehensive up-to-date and accurate careers library. This free resource from Ealing Council supports students in making informed choices about their future career paths. Please use the link below to access.
Username: youthealing
Password: youthealing
(Within ResourceComp@nion use password EPHS2017 to access e-clips.)
EPHS Careers Programme
Click here for more details
LMI Career Cards Use the cards below to find out and compare average statistics on different careers.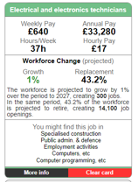 Useful Links
Our Careers Advisor
Ms. A. Crix is our Careers Advisor here at EPHS. She has an abundance of knowledge, advice and connections to help guide you as your consider your options for the future. She is available for student appointments on Mondays and Thursdays. To request an appointment, please use the link below.