Safeguarding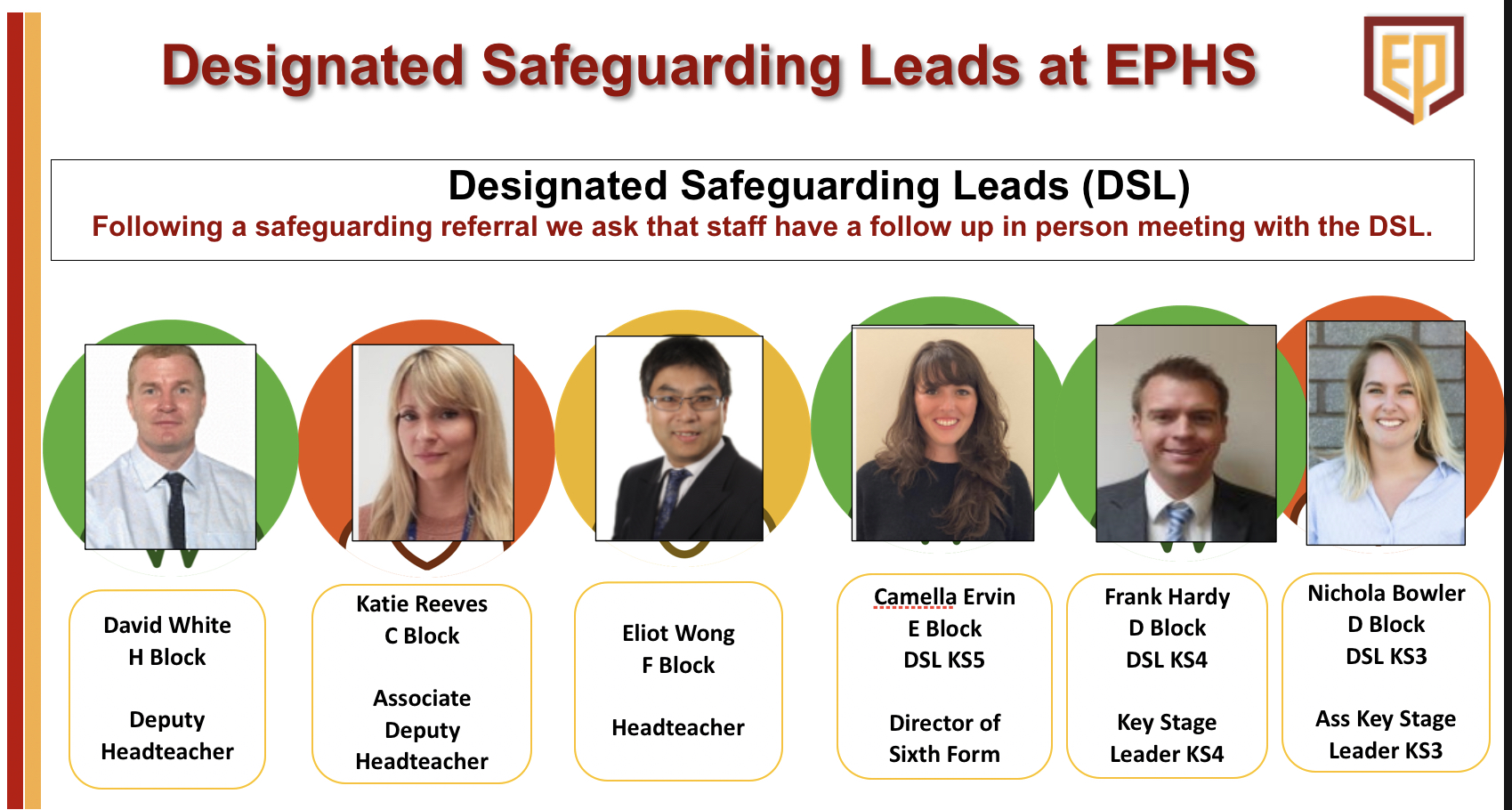 In urgent or emergency situations parents should contact their local authority social care team 0208 825 8000 or call emergency services directly if required.
Safeguarding Guidance for Parents and Students COVID 19
Elthorne Park High School is committed to ensuring the welfare and safety of all our children in school. We believe that students have a right to learn in a supportive, caring and safe environment which includes the right to protection from all types of abuse; where staff are vigilant for signs of any student in distress and are confident about applying the processes to avert and alleviate any such problems. Safeguarding is about ensuring that everyone is safe from harm, safe from bullying, safe from people who could abuse, safe from discrimination or harassment - and that we all feel safe in our environment.
What To Do If You Have a Safeguarding Concern
If your child is ever concerned about their safety or well-being or that of a friend, they should talk to someone such as a parent or a member of staff at school. To voice a concern, please contact ​Ms K Reeves (Designated Child Protection Officer), or in her absence, Mr D. White (Deputy Headteacher).
e-Safety
At Elthorne Park High school we have put in place a number of initiatives to keep our students safe online.
The school has worked with Beatbullying to train peer mentors (Year 11 and Sixth Formers) to work with and support students who may want to discuss risks and concerns around technology and bullying. The school runs themed assemblies relating to e-Safety covering topics such as cyberbullying, sexting, digital footprints, online sexual exploitation and how to use technology safely. (Acceptable Use Agreement)
The school uses safer internet day and anti-bullying week to raise awareness. E-Safety is carefully mapped across the school's weekly PSHCE lessons for each Year group, following Ealing's PSHCE scheme of work.
Our School Safety Officer
Our School's Safety Officer is available to meet with any students and their parents if they have been a victim of crime. Our officer supports our school's PSHCE programme and delivers a number of safety related activities for students and parents during the school year. Our officer can be contacted through the main school switchboard or your child's Year Leader.
Useful Links and Documents
Quick Links
​The links below provide information and guidance for parents and students about the risks and how to stay safe using technology.
Safer Internet Parent Resources:
Getting help/advice: for young people
· ChildLine: Is a free 24/7 helpline for children and young people. Visit www.childline.org.uk or call 0800 1111. ChildLine is run by the NSPCC.
Getting help/advice: for parents
Getting help/advice: for teachers
DFE has a telephone helpline (0207 340 7264) and an email address (counter.extremism@education.gov.uk) to enable teachers to raise concerns or questions on extremism directly with them.
Safer Internet Student Resources: